A Melodic Melange of Nordic Jazz and Arabic Maqam.
"Magical Melange" (Times of India)
VIDEO from our main concert at Sori Festival, Jeonju, South Korea, Oct 3, 2018.

UPCOMING TOUR IN NOVEMBER, 2018 at Swedish Jazz Clubs.

In Melodic Melange, Anders has gathered some of his favorite musicians in a breathless meeting between Scandinavian jazz and Arabic maqam.
Anders Hagberg – flute, alto & bass flutes, soprano sax
Ahmad al Khatib – oud
Johannes Lundberg – double bass, voice
Lisbeth Diers – percussion, voice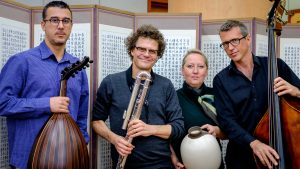 The collaboration between Anders and Palestinian oud virtuoso Ahmad al Khatib has resulted in the album Melodic Melange and tours in Scandinavia, Estonia and S.Korea.
They have also made several tours in India with artists from Bombay and Bangalore with whom they have made the album Ley Lines.


Connecting Worlds is a platform for musical collaborations between genres and cultures.
In 2016  a new serie of concerts was launched in Gothenburg and West Sweden, proceeding in 2017-2018 with tours and new collaborations.
Enjoy videos with Melodic Melange from Vara Concert House october 2016.
In 2014  Connecting Worlds created new music for the four musicians and a string ensemble.