Looking back on a creative 2019! Here´s a memory from the recording of the new album Avorales with Avishai Cohen Trio.
The concert "SONG OF THE MASTERS" during 2019 Sori Festival was broadcasted last week in Korea. Here is an excerpt from the show. Full concert click the link.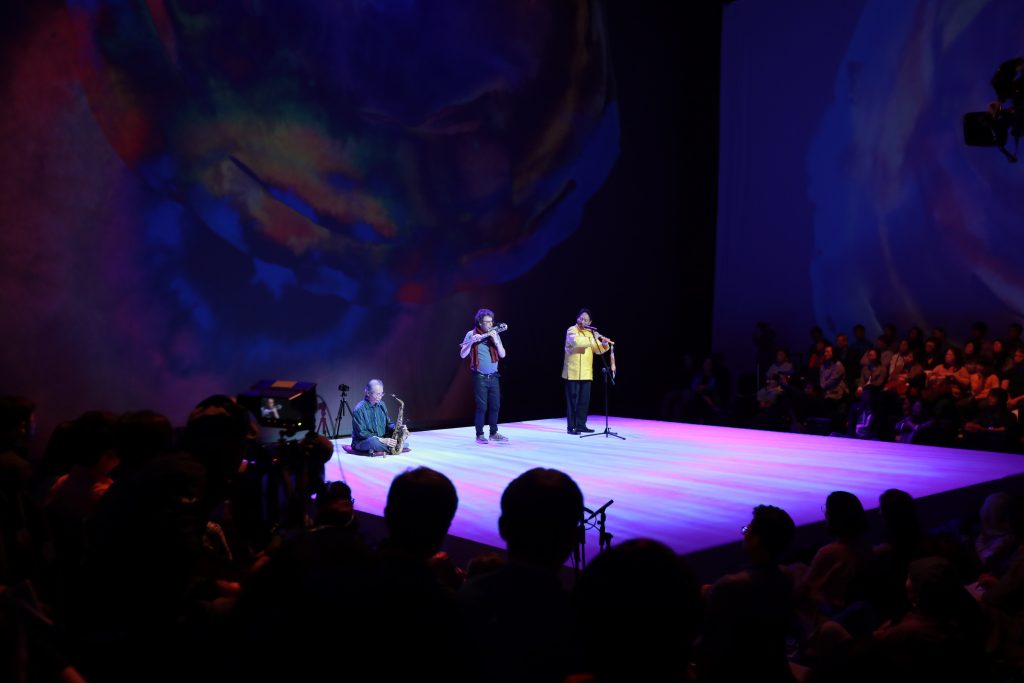 SHOW OF HANDS, TEHRAN.
Solo performance on August 26, workshop on August 25th.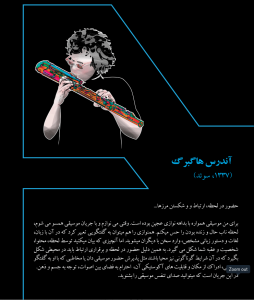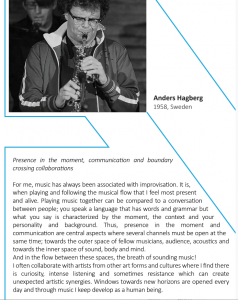 Sharing a memorable moment at Kulturtemplet on May 9.

Some reviews of the album TRUST.
STEREO PLUS (NORWAY)

Nettavisen, Tor Hammerø
"Hagberg har ei unik stemme i og på instrumentene sine og han kombinerer inspirasjon fra Østen med det skandinaviske på et herlig vis… Anders Hagberg har noe helt eget på hjertet."

Ivan Rod.dk
"Svenske Anders Hagberg er en usædvanlig karakter, i hvert fald som kunstner. Han , er åbenlyst interesseret i et bygge bro over til andre og kunstarter, åbenlyst optaget af lydens skulpturer og figurer og åbenlyst exceptionelt god til at betvinge sine blæseinstrumenter og fremtvinge narrative forløb…"
Opulens, 5 of 5 stars. A rich desolation
"Anders Hagberg creates a unique world of sound, filled with beautiful, lyrical melodies and suggestive rhythms…Music that knows no boundaries, independent of time and space…it moves from quiet wonder to expressive, explosive exuberance. With a singular color and fragrance. Inventive and playful throughout…Anders Hagberg has truly made music for the entire world."
Kulturbloggen, TOP rate. Tranquil, radical timbres
"intense and enormously virtuosic…majestic, magnificent weight…breathtakingly beautiful, a quiet reflection on the cosmos…magical…"
Lira Musikmagazin. Painterly woodwinds
"Anders Hagberg suffuses his performance with a captivating intimacy and strong sense of presence…infinitely creative…well worth going along for the ride."
Kulturdelen, 4 of 5 stars
"…a simply superb flautist who coaxes from his instruments every scintilla of their register, often with highly suggestive results."
Upsala Nya Tidning (5 of 5 stars)
"Uppsala's native son, Anders Hagberg, has repeatedly demonstrated his creative breadth as a musician. If any doubters remain, let them listen to his new album, Trust, where he uses a whole bevy of flutes, including a contrabass flute, plus soprano sax and percussion to create suggestive timbres and exciting rhythms.
Dagens Nyheter. Flute music by Anders Hagberg comes alive in silence
"It is silence that brings Anders Hagberg's music to life: a pervasive silence, both in the literal absence of sound and in the emptiness of the acoustic room…he gives us barren landscapes, though not necessarily unpopulated ones; his compositions evoke environments and cultures and the entire difficult symbiosis between the two that has shaped many a singular aesthetic."
Salt Peanuts
Instead of heavy meds, give this record a try…Hagberg is a wizard at handling all the different flutes. He's written some great songs for them, too.
Orkesterjournalen, OJ
"Organic! New landscapes to be discovered … a stream you just want to float in … suggestive jazz."
Valonkuvi.fi
"The most striking feature of the album is the rarely heard contrabass flute, whose percussive sound…creates a rhythmic basis for several songs… "Trust", however, does not only work on the exotic contrabass flute… Strong tracks are among others the oriental "Taksim for Peace", the beautiful duet of C flute and percussion "Matusi Expressions", and the Garbarek inspired "Violet" and "Requiem for Gaia" with the melancholic vibration of the soprano saxophone."